Making a Mark on the World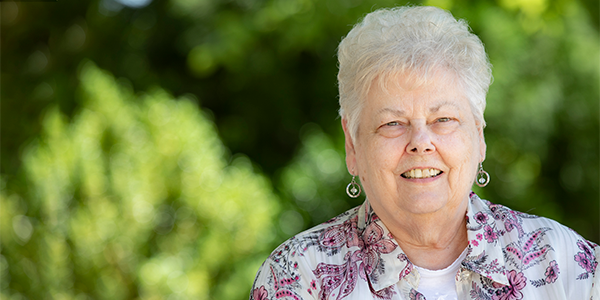 While some couples meet through a blind date or mutual friend, Anne Gratz and her late husband, Roger, were brought together by a shared passion: stamp collecting. Roger was a stamp dealer since 1948 and owned a store in Carlisle, Pennsylvania, where Anne worked with him after they married in 1985.
"Roger was collecting since he was 6 or 7 years old," Anne, a Masonic Village at Elizabethtown resident, recalled. "After we retired from our day jobs, we focused on the store and traveled to shows 35 weekends out of the year."
More than satisfaction and knowledge, collectors like the Gratzs do it for a sense of nostalgia – to have a connection to history. To them, every unique, rare stamp represents an era, each making its own mark on the world.
As a couple, Anne and Roger often thought about how they wanted to make a mark on their own little piece of the world. How would they leave a legacy, and how could they make a difference?
Roger, who was a 60-year Mason, had always believed in supporting Masonic Villages. During their 27-year marriage, Anne also joined in his passion.
"There was a group of us [Masons and their wives] that would support Masonic Villages," Anne recalled. "We would go to the annual donor dinner every year together."
When Roger's health was slowly declining, the Gratzs decided to close their store and move to Masonic Village. Roger passed away in 2012, but Anne has lived at Masonic Village for the last 15 years and says she now fully understands the difference donors make.
"I live here, and I see the impact they [donors] make," Anne said. "They do so much good here. They take care of people who can't take care of themselves. Who knows where else these people would be?"
In 2018, to continue Roger's legacy, Anne decided to support the Masonic Villages with a charitable gift annuity (CGA).
"The CGA benefits my charity, and I get tax deductions from it," Anne said. "Plus, I never have to worry about the ups and downs of the stock market, and all my monthly bills are paid."
In fact, Anne enjoyed so many benefits from her first CGA that she has just arranged another. She can add her finances to her list of eliminated worries since moving to Masonic Village.
"It's wonderful living here," Anne said. "I'm comfortable, and I have a secure feeling. I can't imagine being out 'on my own' anymore. I don't have to think about making meals or what I will do if something goes wrong in my house. I'm just grateful."
While what remained of the Gratzs' stamp inventory went to auction nearly a decade ago, Anne now enjoys the feeling of paying it forward. She believes in Masonic Villages' mission to care for aging seniors, regardless of their financial or health circumstances, so much so that she's also made a bequest in support of Masonic Village at Elizabethtown.
"I just want to help people, to continue the good that has been done here," Anne said. "I want to help ensure this place remains in the future, in the same way it does today."