A Heart and Mind for Charity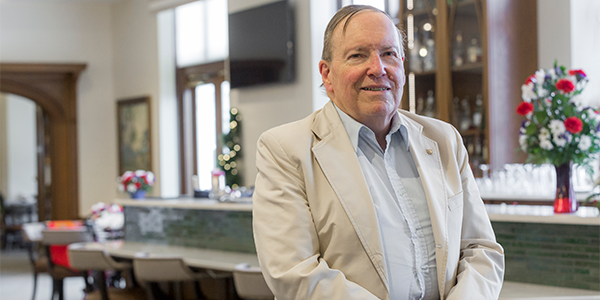 While Chuck Trexler considers himself analytical-minded, he has a heart for charity and for improving the lives of Masonic Villages residents through his time and planned gifts.
Chuck was raised in a modest home surrounded by farm fields. His parents taught him and his sister the value of hard work, which is a trait Chuck proudly carried with him through his education, law career and journey as a Mason.
Chuck is a third generation Mason, who was inspired by his father's and grandfather's Masonic journeys. "It was my family history," Chuck said. "I grew up hearing about Freemasonry."
Throughout his Masonic career, he has found friendships and learned more about himself and the history of the largest fraternity in the world. "Time-wise, and socially, Masonry has been most of my life, aside from my career," Chuck said. "Freemasonry ignited charity in me."
Toward the end of his law career, Chuck became a member of the Masonic Villages Board of Directors. Upon retirement, he was able to dedicate his undivided attention to serving the Masonic Villages and improving the quality of life for its seniors. He served on the board until 2008 and witnessed how Masonic Villages handled the beginning of the Great Recession. "Their first priority has always been the residents, and that didn't change," Chuck said. "They continued to provide a great quality of life for them, regardless of the situation."
Chuck also served on one of the board's subcommittees for planned giving, where he helped create the Franklin Legacy Society for donors who provide for one or more of the Masonic Charities through their estate plans. Chuck was one of the first members to join the society and has since decided to arrange a qualified charitable distribution (QCD) from his IRA to benefit Masonic Villages.
"Throughout my experience with the committee, I got to see the impact donations to the Villages make," Chuck said. "What separates Masonic Villages from organizations like it are the employees. To employees, it's not simply just a job. The Mission of Love is implemented in everything Masonic Villages does."
His passion for Masonic Village and its mission led him to become a resident.
"It's the peace of mind that's special about the Village," Chuck said. "I grew up surrounded by rural farmland. My friends lived on working farms, and I never outgrew that. Moving to Masonic Village [at Elizabethtown] was a move back to my roots."
Inside his cottage, Chuck's favorite pastime, the study of military history, is reflected in his personal library of more than 2,500 books and 10,000 miniature lead soldiers, most of which he has hand-painted to reflect the authentic uniforms of various historical periods. Chuck has also authored many published articles on historical and Masonic subjects. He enjoys having the time and freedom to once again pick up hobbies he's loved since he was a child.
Chuck's love for history – both the country's history and Masonic history - has sparked him to also financially support the Masonic Temple, Library and Museum in Philadelphia, which is home to many artifacts that date back to the beginning of Freemasonry in Pennsylvania and the founding of America.
If Chuck were to leave one legacy on this earth with his contributions, he would like it to reflect a lesson he learned from his faith: "Go, and Do Thou Likewise." It is the last line in a parable from the Bible about a lawyer who was taught to do right by loving his family and neighbors, specifically those less fortunate.