From Great Depression to Great Philanthropist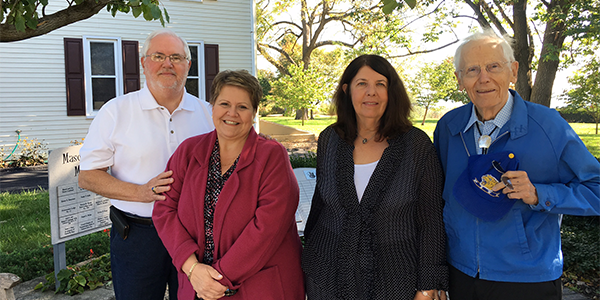 Being in his mid-90s, Donald "Don" Wood has seen a lot in his life, both joys and hardships. From growing up during times of economic hardship, to being at a place in his life where he can actively support his favorite Masonic charities, Don knows what a little help along the way can mean. That's why he's been donating to Masonic Villages and the Masonic Children's Home for years through charitable gift annuities (CGAs), bequests and other direct gifts. Don has been a Pennsylvania Mason for more than 70 years.
"I was born near the beginning of the Great Depression in a mill town near Pittsburgh, the only child of a working class family," Don says. "Lack of siblings often made me lonely, and tough economic times meant few toys and other material things."
Growing up, Don soon realized education represented an escape from a future in the harsh conditions of working a mid-20th century steel mill job. Fortunately, he had the opportunity to get an education at the end of World War II, thanks to the G.I. Veterans' Bill.
After service in the Army Air Force and then the U.S. Air Force, Don returned to Pittsburgh to attend college. Upon graduation from the University of Pittsburgh, he moved to Maryland to begin a civilian career in various offices of the Department of Defense.
Never married, and without children, Don feels a special connection to the kids at the Masonic Children's Home. "In a way, those in the children's home have become my children," he explains. "I support the children's home because it affords a source of family and provides physical, emotional and educational support to children who then prosper in this atmosphere."
Don wants to help the kids in the same way that his opportunity to receive a good education helped him: to succeed and reach their fullest potential. "The children's home launches young people into a life of opportunity and accomplishment they otherwise might never experience," he says.
Because of the generosity and foresight of planned giving donors like Don, both the residents of Masonic Villages and the Masonic Children's Home can have peace of mind knowing they will receive the care they need, regardless of their economic situations.
Don encourages others to consider donating to the Masonic Charities. "All donations – large and small – are certainly vital to continuing and enhancing Masonic achievements in Pennsylvania. Your story, just as mine, has a lasting impact on the future of the fraternity and the community we are a part of."