A Widow of a Masonic Children's Home Graduate Leaves a Legacy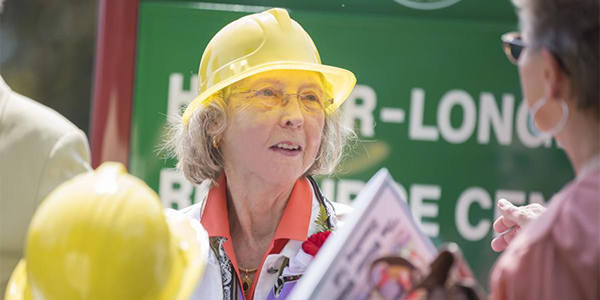 More than a century ago, a 10-year-old boy named Stan Longdon arrived at the Masonic Children's Home. He'd traveled from Pittsburgh after his family, including his widowed mother and sister, had lost their home and had been reduced to living in a single, rented room.
For Stan, the children's home meant shelter, food, clothing and medical care. That medical care would go on to save his leg and perhaps his life.
Shortly after coming to the children's home, Stan endured an accident, which resulted in an infected leg. He required treatment at the Masonic Health Care Center on the Elizabethtown campus for more than a year. Since this was prior to modern medicine and the use of antibiotics, there was talk of amputation.
Fortunately, his physician decided to try a new treatment, called "Dakin's Solution," a recipe used to kill bacteria in wounds. The treatment worked, and Stan recovered from his misfortune. He grew up to be a healthy and successful businessman, thanks to the children's home.
In 1982, Stan married Evelyn Hunter Longdon, a nurse anesthetist. Together, as husband and wife, Stan and Evelyn were active philanthropists. In 1996, Stan passed away at age 91. He often credited the good care he received at the children's home for saving his life and greatly influencing him to become the man he was.
"When we met, one of the first things he said was, 'I want to take you there,'" Evelyn said.
She'd never known about the children's home before she met Stan, but Evelyn recalls it being a main topic during their first date.
"We had dinner, and it lasted four hours, and by the end of it, I could have written a book on the Masons and the children's home," she recalled.
Since Stan's death, Evelyn has remembered his words, and, in 2003, began making significant contributions and planned legacy gifts to the children's home in memory of her husband.
Today, in addition to her planned gifts, Evelyn supports the daily needs of the children as well as multiple scholarships. In turn, the educational resource center on the children's home campus has been named for her.
"The Office of Gift Planning has helped me fulfil my husband's wish, which has also become my love," she said. "Giving has always seemed like the right thing to do, especially for children. The Masonic Children's Home makes a difference in children's lives. It will influence them forever. I'm happy to be a small part of it, and I think about the kids a lot."
Stan Longdon's success story personifies the work of generous donors, and Evelyn's is a true story of paying it forward.