Leaving a Legacy While Caring for Children in Need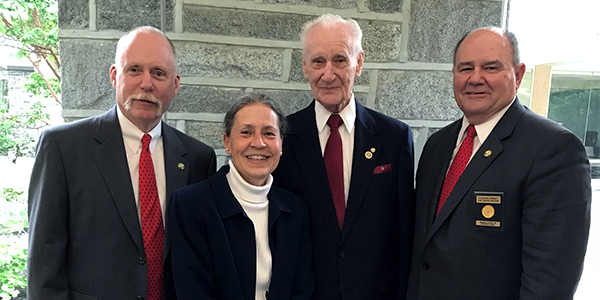 After a long life of hard work and taking care of others, Jack Llewellyn is still making plans to support the causes he believes in. He has given to the Masonic Charities for more than 60 years, and most recently has set up two charitable remainder unitrusts (CRUTs) to support his daughters. They will receive quarterly distributions for 20 years, and the remainder of the trust, after Jack's passing, will be given to the Masonic Children's Home.
During Jack's childhood, his family experienced hardship that showed him the value and reward of hard work. He was employed full-time his entire life, from age 14 as a bowling alley pin setter, until his retirement as an IBM senior planner. He took a short break from employment to serve in WWII, leaving school during his senior year in December to join the Navy. Just eight days after he returned home from war, he was employed full-time again driving trucks in strip mines.
Knowing how his parents' strength and determination gave him opportunities growing up, Jack wanted to help give other children a good starting point in life. Being a Mason for much of his life, he has given to Masonic causes and charities many times before, but wanted to make a larger planned gift and immediately thought of the children at the Masonic Children's Home. Through his involvement in Freemasonry and the values it encourages members to pursue, Jack admits that he has become more charitable over the years. "I have learned more about the opportunities to serve and saw firsthand some of the positive results, an example being the children's home."
Jack was able to see the direct impact the children's home has on children in need when his daughter Lauren brought him to visit from North Carolina a few years ago. Together, they toured the children's home's five cottages and met the wonderful staff and children. They even got to experience Youth Appreciation Day, an annual event that celebrates children's home graduates, as well as the accomplishments of all the youth.
"[They have] continued family-like support in a stable environment while being mentored and prepared for a productive adult life," he says about the support the home gives to the kids. "All the children seemed to be part of one big happy family."
Both of his daughters approve of the way the trust has been set up, because it provides a way for Jack to continue to support his family, while also helping others in a meaningful way. The family believes in the mission and goodwill of the Masonic Charities of Pennsylvania and want to someday continue Jack's legacy of giving.
"It's one of the best charities. You know where the money's going," Jack said.