A Committed Life, a Thoughtful Donation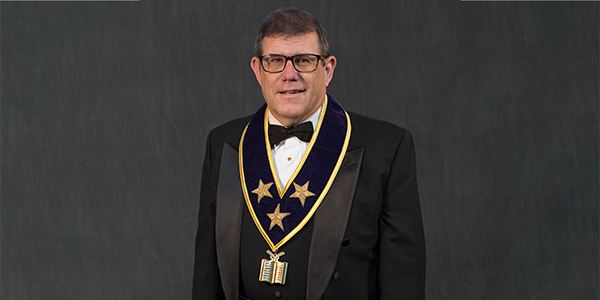 After a career dedicated to Freemasonry and helping his community, Mark Haines plans to continue his helpful spirit with the planned giving bequest he made in support of a charity he's passionate about: the Masonic Library and Museum of Pennsylvania.
As the Grand Secretary of the Grand Lodge of Pennsylvania, Mark works closely with lodges across the state and oversees the day-to-day operations of the Grand Lodge. "I've been a member of the fraternity for 31 years," Mark explains. "The greatest part of the fraternity are the relationships you develop. It's a special bond that is developed between members and their families."
Mark and his wife, Karen, have five children and three grandchildren. In their spare time, they enjoy going to football games and making memories together.
Mark's planned gift in support of the Masonic Library and Museum comes from a love and appreciation for the history of the building itself, and the work the Grand Lodge does to support its members and community. The Masonic Library and Museum is the meeting place of multiple lodges in the Philadelphia area and houses the John Wanamaker Masonic Resource Center. "It's a historical landmark and the greatest Masonic building in the world," Mark says. "The library and museum have one of the greatest collections of art, memorabilia and artifacts, as well as one of the finest collection of books and periodicals in the world."
Being in his position, Mark has seen the good that the Grand Lodge and the Masonic Charities have done. "Our members' generosity allows us to continue our mission of love, hope and charity to our members, the community, veterans and children," he explains
While there are various Pennsylvania Masonic Charities, Mark particularly supports the Masonic Library and Museum because he wants to ensure the legacy of Pennsylvania Masons is remembered. "I hope my gift will continue to support our Masonic Library and Museum and preserve our history for future generations to enjoy," he says.
Mark had a great experience while determining the details of his bequest with the Masonic Charities Office of Gift Planning staff. "They're all caring individuals who are concerned with how best to assist a donor," he says. "There's no pressure placed on a donor."
Mark believes giving a gift, large or small, should be a deliberate effort to support an organization or cause you know will do good. "Take your time to identify that special place or places where you feel your donation will be put to good use," he recommends.